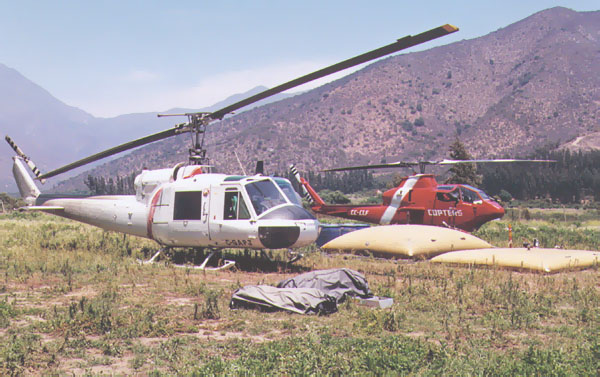 Date Taken
Dec. 1, 1998, midnight
Submitted
Jan. 8, 2000, 10 p.m.
Last Updated
July 16, 2019, 12:51 a.m.
Owner
Heli-North Aviation
Category
Firefighting helicopters
Horizontal
Front quarter view
Interior/Exterior
Exterior view
Single/Multiple
Single aircraft shown
Static/Moving
Aircraft is not operating
Intrument Panel
Instrument panel not shown
Close-Up Detail
Entire helicopter shown
Notes
North of Santiago, Chile Photo was taken while a hydro line was being built in a joint venture with Heli-North Aviation of Sudbury, Ontario and Copters Ltd of Santiago, Chile, who operated the Bell 209 Cobra Lifter shown in background. The bladders are full of fuel and the tarps in front of the 204 are water buckets for fire fighting.
In/Out of Service
Yes, helicopter is still in service
Base Location
Canada : Ontario : Sudbury