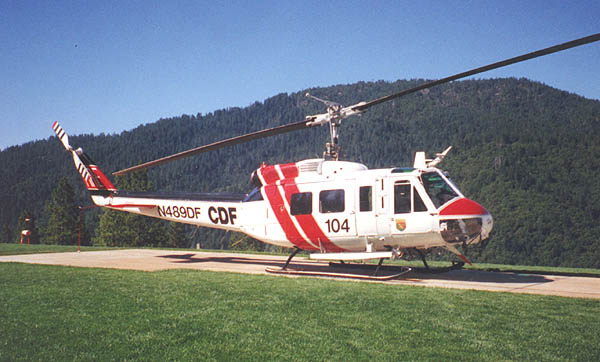 Submitted
Nov. 10, 1997, 10 p.m.
Last Updated
Sept. 3, 2019, 1:16 a.m.
Owner
California Department of Forestry (CDF)
Category
Firefighting helicopters
Horizontal
Front quarter view
Interior/Exterior
Exterior view
Single/Multiple
Single aircraft shown
Static/Moving
Aircraft is not operating
Intrument Panel
Instrument panel not shown
Close-Up Detail
Entire helicopter shown
Notes
Boggs Mountain Helibase
In/Out of Service
Yes, helicopter is still in service
Base Location
United States : California : Cobb
Notes
Copter 103 switched numbers w/merger Sonoma/Lake/Napa Ranger Unit, to Copter 104. This will be the third number change from the original Copter 101, based in Middletown, CA. The original copter was an FH1100, started ops in 1969, moved to Boggs early 1970. Upgraded to 206B, crashed 1974, pilot injured, no crew on board. Upgraded to A-Star, upgraded to Bell 205 late 1990's.