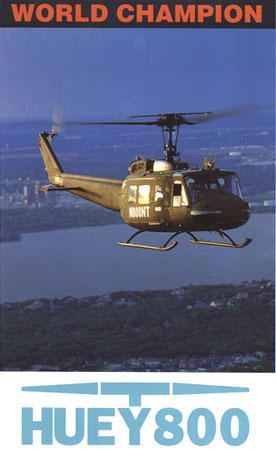 Submitted
May 27, 2001, 4:04 p.m.
Last Updated
Sept. 3, 2019, 1:16 a.m.
Owner
Global Helicopter Technology Inc.
Category
Helicopter operators (incl. Flight Instruction)
Photographer
Flight Level Design
Horizontal
Front quarter view
Interior/Exterior
Exterior view
Single/Multiple
Single aircraft shown
Static/Moving
Aircraft is operating
Intrument Panel
Instrument panel not shown
Close-Up Detail
Entire helicopter shown
In/Out of Service
Yes, helicopter is still in service
Notes
Global Helicopter Technology Inc.'s A/S T-800 powered UH-1H. This aircraft set a world record on 22 April 93 for longest unrefueled helicopter flight, 1975 miles, from Oxnard, Ca., to Dobbins Ga. Structural work provided by Airframe Mechanic Steve Fehringer.