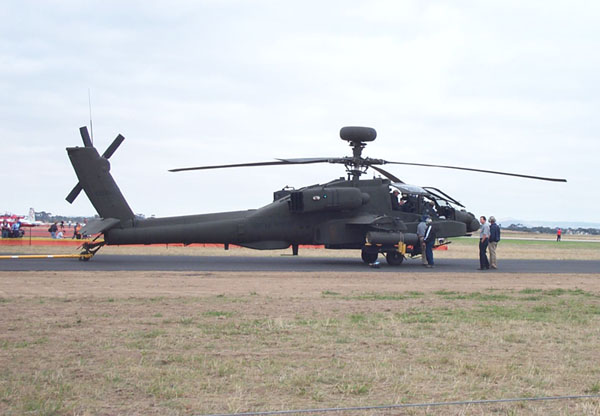 Event
Australian International Airshow
Submitted
June 2, 2001, 1:43 a.m.
Last Updated
Sept. 3, 2019, 1:16 a.m.
Category
Military helicopters (U.S.)
Photographer
Daniel George
Horizontal
Rear quarter view
Interior/Exterior
Exterior view
Single/Multiple
Single aircraft shown
Static/Moving
Aircraft is not operating
Intrument Panel
Instrument panel not shown
Close-Up Detail
Entire helicopter shown
Notes
The Longbow was at the airshow not only as a drawcard display courtesy of the US Army but also to display its capabilities to the Australian Defence Department. The Longbow is one of four contenders for the Australian Army's new Armed Reconnaissance helicopter, which calls for 20-24 aircraft. The other contenders for the contract are the Eurocopter "Aussie Tiger" derivative of its Tiger Gunship (which was also at Avalon but alas was not there on the public days), the Bell ARH-1Z Super Cobra (which was supposed to be at Avalon but the sole flying example was at Fort Worth for flight testing according to Bell's Trade Show representatives), and the Agusta A129 Scorpion, a derivative of the A129 Mangusta International. The list will be cut to two mid-2001 with a contract awarded at year's end with a provisional service entry date of 2003.
In/Out of Service
Yes, helicopter is still in service