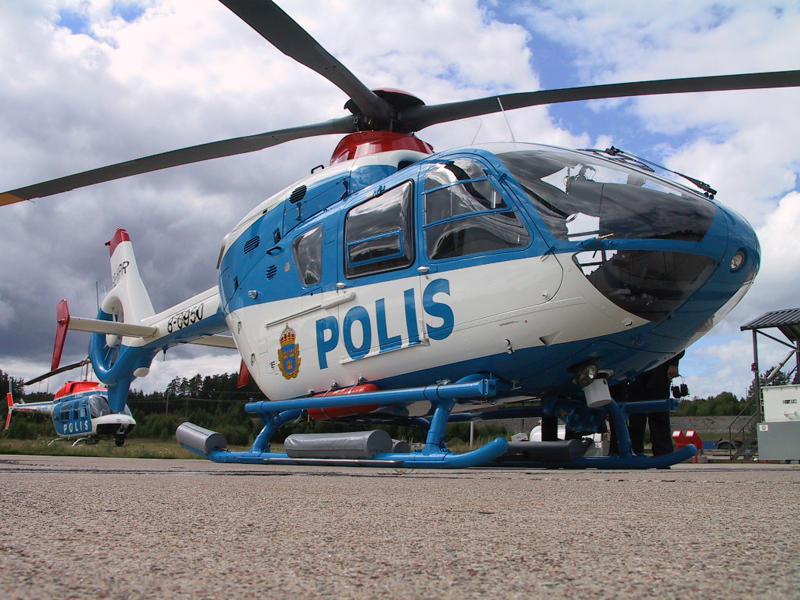 Submitted
Oct. 28, 2001, 1:34 p.m.
Last Updated
Sept. 3, 2019, 1:16 a.m.
Owner
Rikspolisstyrelsen (Swedish Police)
Category
Law enforcement / police helicopters (non U.S.)
Photographer
Rickard Gillberg
Horizontal
Front quarter view
Interior/Exterior
Exterior view
Single/Multiple
Single aircraft shown
Static/Moving
Aircraft is not operating
Intrument Panel
Instrument panel not shown
Close-Up Detail
Entire helicopter shown
Notes
Tullinge Airport Photo was shot during the first public display after this aircraft arrived for service.
In/Out of Service
Yes, helicopter is still in service
Base Location
Sweden : Stockholm County : Stockholm : Tullinge Airport
Notes
The Swedish Police are replacing the Bell 206's with seven new EC135P2s. This one was the first to arrive. The helicopter is equipped with many highly advanced programs. It will also be equipped with: IR-Camera/FLIR/Video-camera (LEO II), Loudspeakers, Cargo hook, Hoist, Searchlight (SX-16) and NVG.