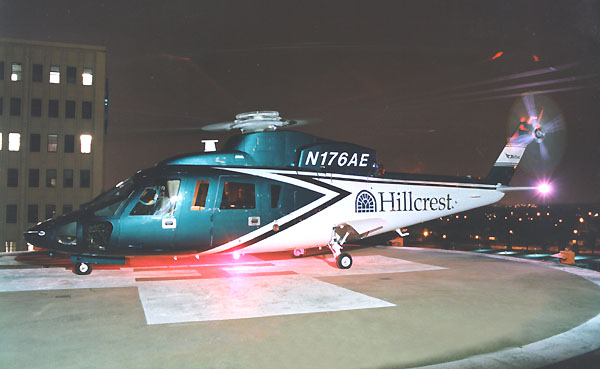 Submitted
Sept. 4, 1998, 10 p.m.
Last Updated
Sept. 3, 2019, 1:16 a.m.
Owner
Hillcrest Hospital AirEvac of Tulsa
Category
Air medical helicopters
Photographer
Desmond Casey
Interior/Exterior
Exterior view
Single/Multiple
Single aircraft shown
Static/Moving
Aircraft is not operating
Intrument Panel
Instrument panel not shown
Close-Up Detail
Entire helicopter shown
In/Out of Service
Yes, helicopter is still in service
Base Location
United States : Oklahoma : Tulsa
Notes
This Aircraft was retired in 2003 and will be replaced by the Air Evac Life team which will take over helicopter operations for Hillcreast. The first helicopter will hopefully be put into service on Jan 13, 2003. This aircraft was sold to Miami Childrens Hospital and is operated by Air Methods.