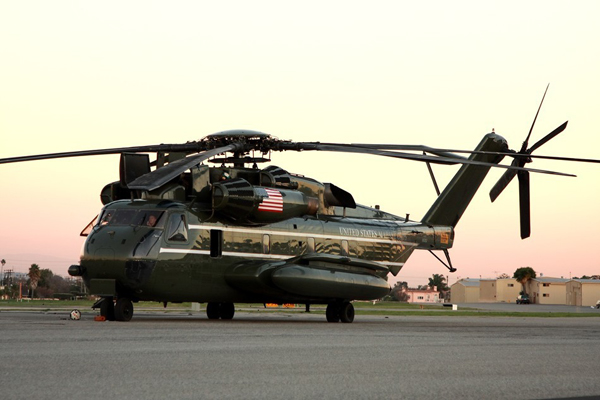 Date Taken
Jan. 30, 2008, midnight
Submitted
Sept. 11, 2008, 1:24 p.m.
Last Updated
July 16, 2019, 12:51 a.m.
Location
United States : California : Torrance
Owner
United States Marine Corps
Category
Military helicopters (U.S.)
Horizontal
Front quarter view
Interior/Exterior
Exterior view
Single/Multiple
Single aircraft shown
Static/Moving
Aircraft is not operating
Intrument Panel
Instrument panel not shown
Close-Up Detail
Entire helicopter shown
Military Unit
Marine Helicopter Squadron One HMX-1
Notes
Helicopter was with Presidential visit and had broken down and was not able to leave with the other VIP helos. The eventually left a little after 8pm
In/Out of Service
Yes, helicopter is still in service
Base Location
United States : Virginia : Virginia Beach
Notes
This is one of the VH-53E that escort the president on various trips.