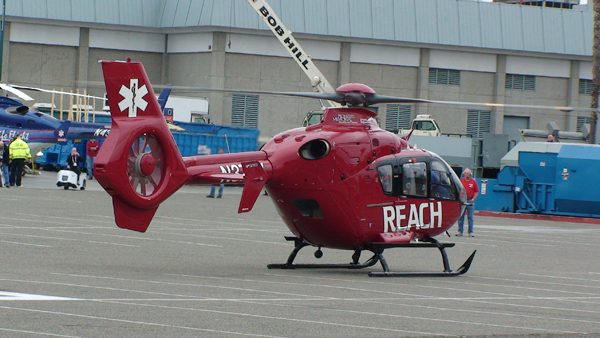 Date Taken
Feb. 25, 2009, midnight
Event
HAI Heli-Expo (2009 / Anaheim)
Submitted
March 4, 2009, 9:49 p.m.
Last Updated
July 16, 2019, 12:51 a.m.
Location
United States : California : Anaheim
Owner
Redwood Empire Air Care Helicopter (REACH), Pioneer Memorial Hospital District
Category
Air medical helicopters
Photographer
Elliott Alper
Interior/Exterior
Exterior view
Single/Multiple
Single aircraft shown
Static/Moving
Aircraft is not operating
Intrument Panel
Instrument panel not shown
Close-Up Detail
Entire helicopter shown
Notes
The photo was taken at the rear loading dock of the Anaheim Convention Center. The helicopter took part in the HAI Heli Expo 2009.
In/Out of Service
Yes, helicopter is still in service
Base Location
United States : California : Brawley