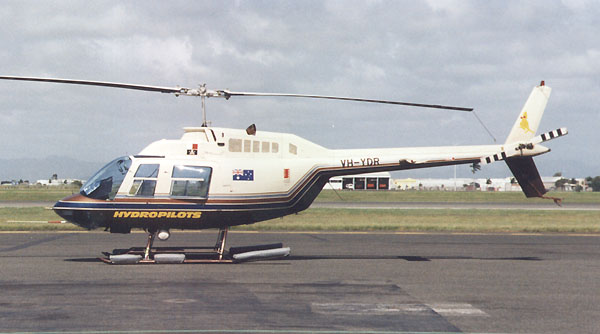 Submitted
Feb. 6, 1999, 10 p.m.
Last Updated
Sept. 3, 2019, 1:16 a.m.
Category
Helicopter operators (incl. Flight Instruction)
Interior/Exterior
Exterior view
Single/Multiple
Single aircraft shown
Static/Moving
Aircraft is not operating
Intrument Panel
Instrument panel not shown
Close-Up Detail
Entire helicopter shown
In/Out of Service
Yes, helicopter is still in service
Notes
Aircraft is the only single pilot/auto-pilot, IFR JetRanger in Australia. The aux tank fitted in the rear seat provides 4 hours of fuel, allowing aircraft to fly 120 miles out into the Coral Sea and return, holding an alternate if required for weather.