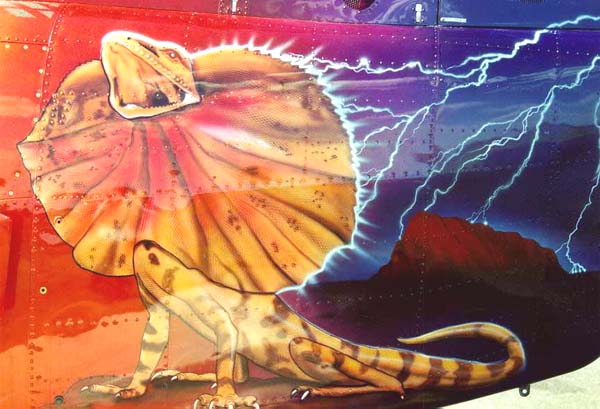 Submitted
Feb. 26, 1999, 10 p.m.
Last Updated
Sept. 3, 2019, 1:16 a.m.
Owner
Ayers Rock Helicopters
Category
Helicopter operators (incl. Flight Instruction)
Horizontal
Not applicable
Interior/Exterior
Exterior view
Single/Multiple
Single aircraft shown
Static/Moving
Aircraft is operating
Intrument Panel
Instrument panel not shown
Close-Up Detail
Area of detail shown
In/Out of Service
Yes, helicopter is still in service
Base Location
Australia : Northern Territory
Notes
Helicopter is based in Central Australia. The frill-necked lizard depicted is an animal native to Central Australia. It fans out the frill to look aggressive, then usually runs away on its hind legs.